GUIDE TO THE BEST SWIMMING SPOTS AND WATERING HOLES IN SOUTHERN VERMONT
While some may view Vermont and the Green Mountains as cold all year round, locals know that it can and does get pretty hot up here during the Summer months. With that in mind, we're always on the lookout for the best spots to cool off in our clear mountain waters. Here's our guide to the best places to take a quick dip or spend an afternoon relaxing at the water's edge.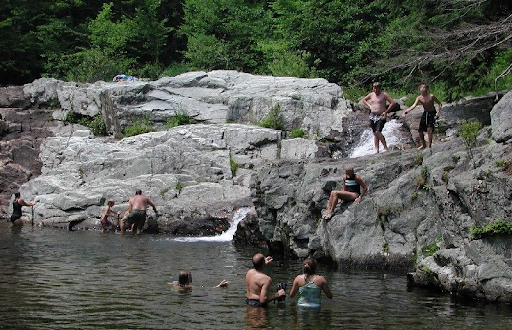 More of a place for a dip than a swim, the series of three concurrent falls are pretty, and there is plenty of room for a picnic on the rocks. The falls may be "raging" or "trickling." depending on when you visit seasonally. There's also some great "exploring" around the Falls as well with an old bridge that was a part of the original Route 103 before it was redirected.
Note that this one does require a short, but steep hike down to the water from the road, so be aware when visiting with small children and/or older folk.
We previously mentioned this as a good hike, but if you want to focus on swimming instead, walk clockwise from the parking lot to reach the beach area without traversing the full 3-mile loop.
There are picnic tables at the beach area for you to set out your spread and hang out between dips. Of the more traditional "lake beach" types of areas, this one is usually pretty quiet. It's not uncommon to share the beach with another small group, but we've never seen it packed as we do Hapgood Pond.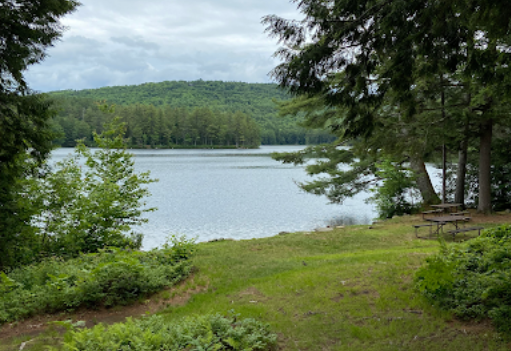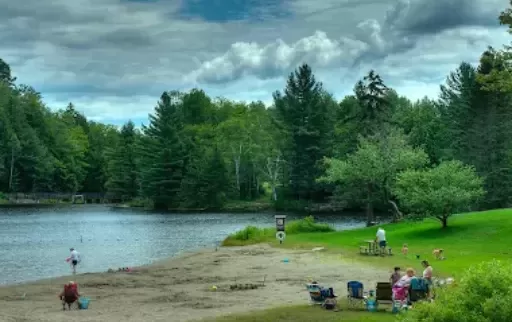 As we just mentioned with Lowell Lake, Hapgood Pond also boasts a hiking trail. As swimming spot, this is one of the more crowded areas, but fear not as it never really feels "too crowded".
There is actual sand on the beach, plenty of parking (for a small fee), actual restrooms (unlike many of the other spots) and a bunch of picnic tables.
There are always plenty of other families with kids there, both locals and tourists, and as mentioned before, the drive here from Honeypot is gorgeous.
One of our favorite spots to spend a sunny afternoon in Southern Vermont. It's a bit of a drive from Honeypot, but certainly not that far and totally worth it. In addition to swimming, this is also a popular spot for "cliff jumping". Please take care, and know that all jumping is done at your own risk.
At one point in time, Dorset was home to America's first marble quarries and this watering hole sits at one of those spots. Unlike the nearby Freedlyville Quarry (one of our favorite hikes) which is cut horizontally into the side of the mountain, Dorset Quarry is cut vertically, down into the ground. What's left all these years later is an extremely deep, man-made pool filled with spring-fed water.
The spot does collect a nice crowd, so don't expect to be alone. There is a small fee to park and there are porta-potties on-site. On occasion, you can also find live music here on weekends.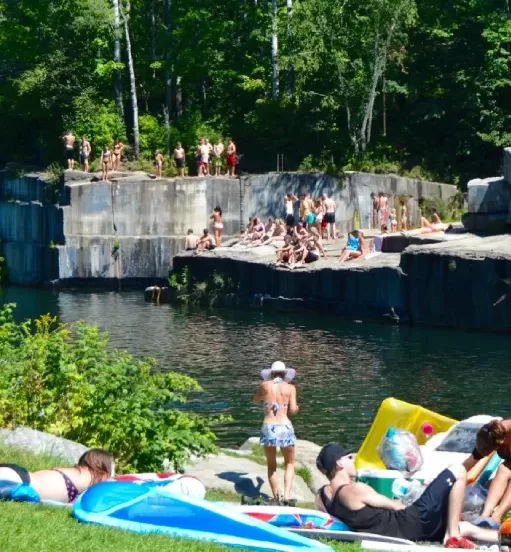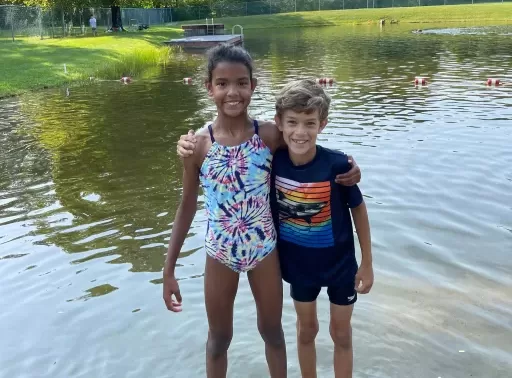 Just over half a mile from Honeypot, the Weston Recreation Club is the easiest spot to take a dip near our house. There is ample free parking, restrooms, tennis courts, a basketball court and a large field for frollicking.
The pond itself is small, but swimmable and open to the public at no cost. This is very much a locals' spot, and while it is the most convenient option for cooling off, we'll be the first to admit it doesn't have a ton of character.
This is a good option to quickly satiate a few restless young kids, but probably not the place where a more mature group will want to spend an afternoon.
A section of Mill Brook Falls, this 60-foot-long natural waterslide runs slick with algae and launches into a natural pool at the base. The Danby Slides are truly a unique experience that even garnered a NY Times write-up. Check out Upper Mill Brook Falls (below) for a spot to take more of a relaxing dip.
Note that parking here is sparse, and while we have never had an issue, some articles claim that the slides are not open to the public. Again, these are super-fun, and worth your while, but if someone kindly asks you to leave, please respect the locals, and politely depart.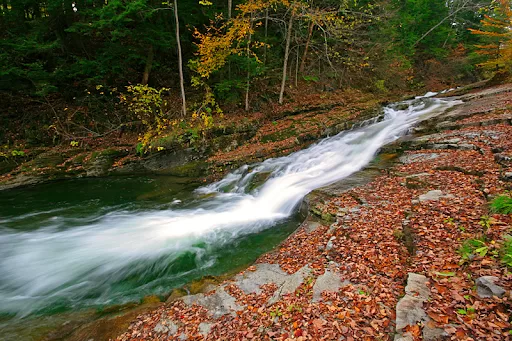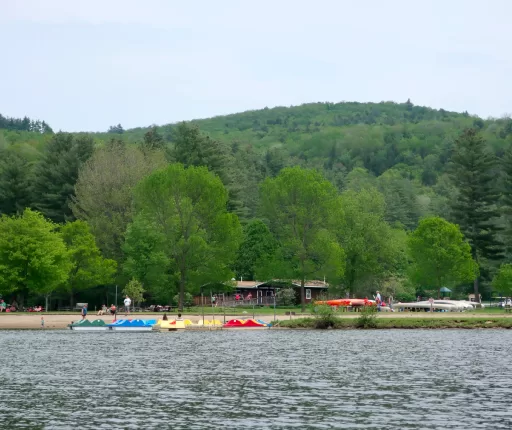 Echo lake is absolutely gorgeous and can be seen on the right as you drive north along Route 100 from Honeypot, past Okemo towards Killington.
Camp Plymouth State Park is a full-service campground with restrooms, campsites and the whole shebang. Parking and the beach are located on the side of the lake farthest from Route 100, The beach area is broad and sandy, and the exploring around the lake is fun and worthwhile. The park also offers boat rentals, stand-up paddle boarding, fishing and more.
Additionally, this area was a popular component of the Vermont Gold Rush in the 1850s. Still today, hand-panning for gold is allowed in Buffalo Brook that flows into the lake.
While there are many points along the West River to take a quick dip, with its clear, slow-moving waters, Salmon Hole is one of the best.
Jamaica State Park features a campground, restrooms, and ample parking. The campground is dog-friendly, but Salmon Hole itself is off-limits to furry friends. If you plan to splash in the river, water shoes are suggested as the riverbed can be rocky. Cell service here is almost non-existent, so plan accordingly.
If you're looking for a full-on outdoor adventure, Salmon Hole pairs well with the Ball Mountain Dam and Hamilton Falls Hike we suggest in the hiking section.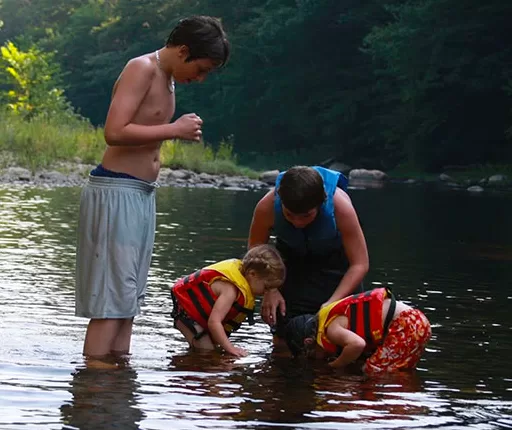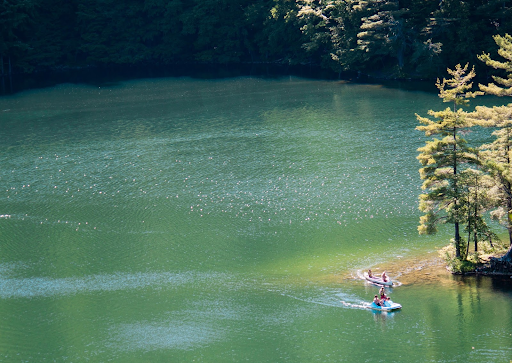 Emerald Lake is a beautiful state park offering a great, sandy beach and swimming area with plenty of other activities both individually and led by park staff.
In addition to swimming, there are picnic areas, horseshoe pits, a volleyball court, and stand-up paddle boards for rent during summer months. There are restrooms, campsites, coin-op showers as well.
There are also great spots for fishing and multiple hiking trails. There is a small fee to park.
Much more of a locals' spot without any infrastructure, don't sleep on Upper Mill Brook Falls in Danby. Check out the
Danby Slides
(above) for a more "action-packed" section of the same Falls. The initial hike to the top of the picturesque Falls is easy, but the short, significant scramble to the base is not suitable for small children. Tall cliffs great you below where you'll find the sizable, natural pool. To get there, take South Main Street in Danby, turn left onto Brook Road, and then the dirt road to the parking area. Although there are no signs prohibiting access, the falls are on private property and accessibility may be subject to change.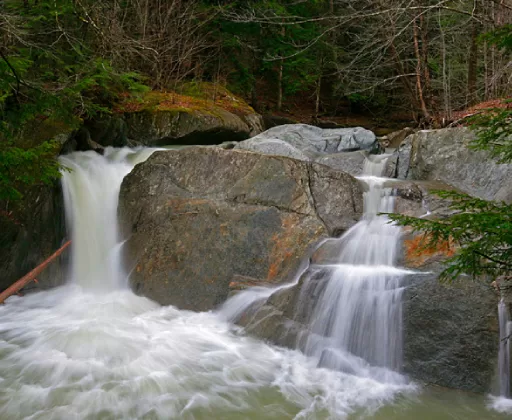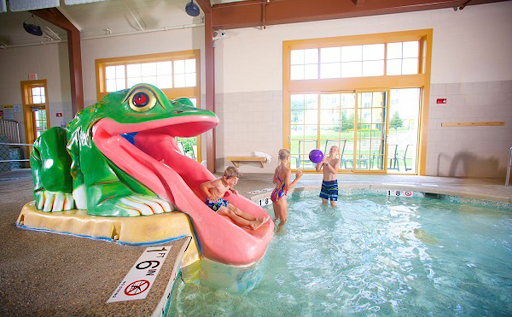 If being one with nature ain't your thing, or if you'd simply prefer someplace with lifeguards and the opportunity to avert your gaze from the kids for a few moments, fear not—Spring House at Okemo's Jackson Gore base just might be your spot.
Access to the large, heated indoor pool, hot tubs and children's splash pool can be had for $15 per person per day, and kids 3 and under get in free.
CHECK HONEYPOT AVAILABILITY
Welcome to Honeypot Farmhouse— Your family's year-round VT retreat. We're under 10 miles from Okemo & Magic, 14 miles from Bromley, & less than 35 miles from Stratton, Mt Snow & Killington. We just renovated our 1850s home to be a balance of modern and cozy; where we—and you—will never want to leave. Come for a fun-filled weekend on the mountains skiing or a relaxing getaway in nature. End your day curled up by the fire in our cozy Great Room or over a glass of wine in our open-concept kitchen